Green is not the most notable color when one thinks of the turquoise gemstone. However since I grew up digging around the Stone Mountain Turquoise deposit I have found the color green to be a constant and equal shade in the gradient of nature's expression we call "turquoise"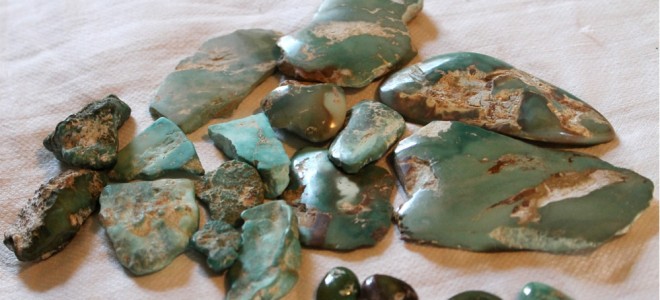 It took me a while longer to first see the green turquoise in the rough. The contrast of color set against the pale talcy alkaline silt of the Nevada Desert, gave the green turquoise vein the appearance of uninteresting black rocks. Then one day, by mere accident I chipped a sliver of seemingly black rock and allowed the sunlight to reveal the stones true color. Forest Green!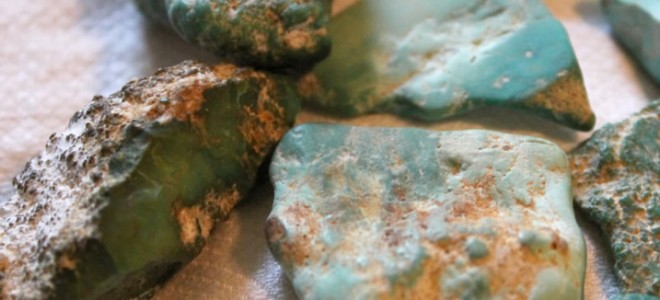 Somehow the minerals within the tilth of this dusty Nevada nook had in combination with that of he turquoise darkened beyond it's true green color to a grey or near black or brown shade. This hid the green turquoise from the eyes of the squinted. The bright shade of the overall landscape causes your eyes to pinch tightly. The common irritation sets itself upon your brow and from then on your ability to discern one shade from another is greatly diminished.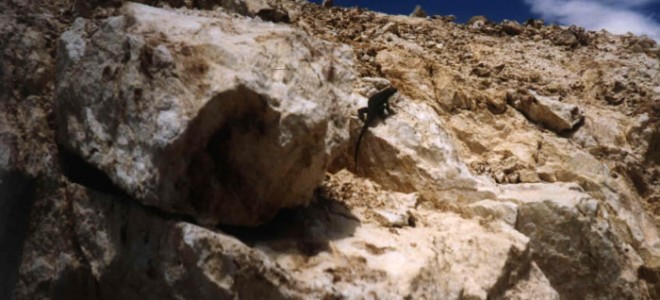 Every so often the dryer parts of the high deserts in Nevada get a rain shower.
The event is really quite something to observe. And this is easy as most of the time this happens you are quickly driven back into your vehicle to take shelter, the thunder booms, lightning scatters across the ridge-tops and is quickly followed by a torrent. The torrent rarely lasts more than a 10-15 minutes. The sun comes out from behind the cloud towers and reveal a completely different world. Color of all sorts brightens and shades of orange, red, blue, green and teal become vibrant for a period of a few hrs. The drench talcy soil is no longer easily ply-able so it is more fortuitous to walk about and see what the rains have washed off. In this event is the best possible time to see what stones you have been walking over without a notice.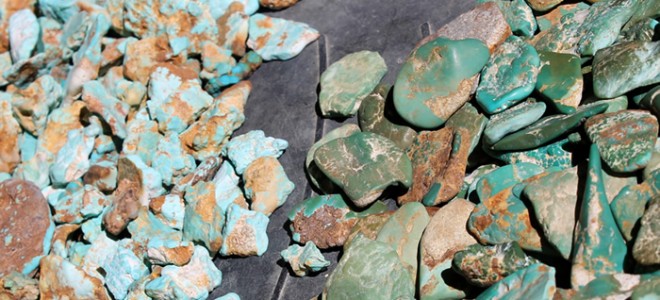 I stated in a well known gems and jewelry blog a few years ago that "any turquoise deposit that has a good amount of iron is likely to produce great varieties of color and/or green shades", I stand by that statement and in more recent desert treks I have found more green turquoise that runs consistently in seems of rich iron host-rock and within iron clay pinched between quartz rich host-rock.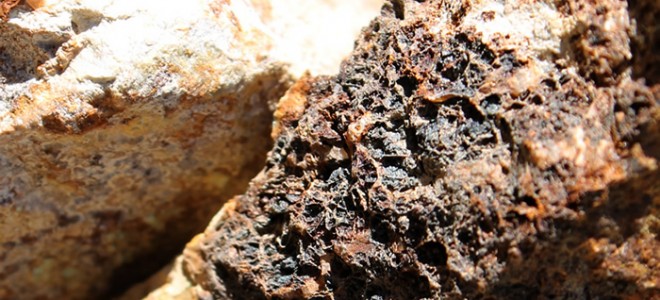 Iron has a unique effect on turquoise as it formed, you will commonly find a better bond took place where iron was present. In a conversation with one of our extremely knowledgeable customer, he pointed out that the green color could also be a result of heat as the stones formed. I found that interesting as we also found a lot of heat exposed rocks in with the iron.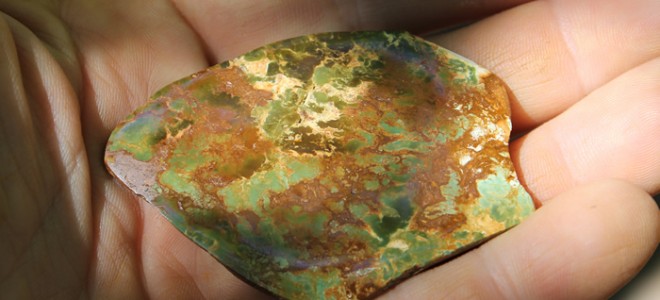 Limonite is a very dominant mineral discovered at Stone Mountain Mine, and since it is almost completely iron, it is not wonder that a lot of green turquoise is discovered there. Heat and limonite may be the main contribution to the deposit. In ancient times the area was subject to a massive upheaval. So abrupt and violent was the event that the entire tectonic plate from the Pacific coast inward was jolted and lifted by the plates under the Pacific ocean. This sent a shattering reverberation through the plates east of the Sierra Mountain range, breaking them up into square tilted hills and mountain chains. This is ever-present in trekking dues east of the Sierra's from Oregon to Mexico. That must have been some event! Millions of years had past and within the cracks left from that event began to form many varieties of minerals and gemstones. The iron at Stone Mountain grabbed hold of any and all minerals it came into contact with and over the eons the chemical reactions created turquoise. Some of that turquoise is Green.
I still do not know exactly what causes Stone Mountain Turquoise to bear such a diverse color spectrum, and we will continue to study it endlessly because we find it interesting.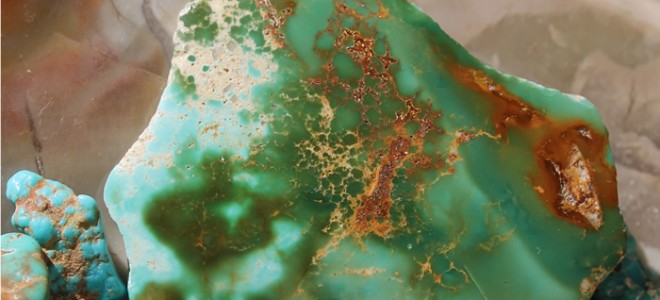 For available green turquoise visit our web store :  https://nevadacassidys.com
Cheers!
Canyon Cassidy