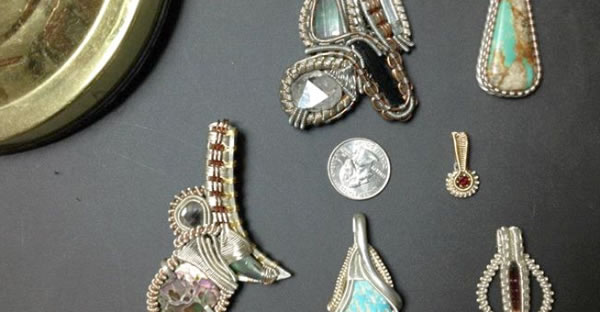 Dylan Clevenger is a young jewelry artist from California that Suzanne had the luck of meeting at the Comstock Rockshop in Virginia City, NV. Suzanne was immediately intrigued by his interest in geology and gemstones. His unbridled enthusiasm and the fire in his eye is what struck Suzanne most, they hit it off immediately. Luckily for Dylan his skill and creativity match his drive for creating one-of-a-kind jewelry in the discipline of wire wrap.
Before too long Dylan came to Silver City to visit the studio. Right away he began feeling his way through trays of the turquoise we found at Stone Mountain Mine. Realizing that he had a taste that was truly unpredictable,  we started to hand him tray after tray in random fashion. Dylan picked out an array of Stone Mountain Turquoise with different colors, shape and matrix. Some of the stones were heavy in quartz where the turquoise ran through it like a stream through a mountain side. Others were turquoise nuggets that had been tumble polished, he also picked out a few of our turquoise cabochons designed in our studio. He seemed rather content and was excited to use the natural turquoise he picked out.
It is all small world, Dylan mentioned that he had also taken a few jewelry design and soldering classes from a friend and neighbor Larry Wahrenbrock, owner of The Bead Store in Carson City. After leaving we discussed the meeting and agreed that he was a charming young fellow with a lot of 'zat' and had a bright future. We were so right!
About a year went by and in early December 2013 Dylan called us on the phone near dinner time. He was on the highway and headed this way from Santa Cruz, Ca. Suzanne felt it was OK to stop by as he told us he had finished the custom job Suzanne asked of him. This was almost forgotten about, Suzanne had asked Dylan to make a few special something's for gifts to give her Daughter and Grand kids.
What he delivered was indeed truly special, Masterful work! We are not going to spoil the surprise so we won't show them until the gifts have been given. However Dylan also showed us what he made with the stones he acquired during his last visit. Have a look!
His style is very unique and requires a balance of technique and finesse. His jewelry creations are truly a work of art. This pleases us greatly as Inspiring creativity is exactly why we got into this business.
Dylan has an Etsy Shop called "Twisted Equipoise Jewelry" and you can see more of Dylan's work on the Twisted Equipoise Jewelry Facebook page: http://www.facebook.com/pages/Twisted-Equipoise-Jewelry/390062994366880
Dylan uses a variety of gemstones and both gold and silver wire. He can be contacted through the Twisted Equipoise Jewelry Facebook page for custom jewelry and for purchase of his own inspired pieces. We can't wait to see what Stone Mountain Turquoise jewelry he will create next! His most recent meeting was inspiring, we hope he was also inspired and anticipate his return to our studio.