One of our favorite artists is Gail Farcello. Gail has a unique way of bringing together feeling with elements to create her jewelry. She is a master Beadworker, she uses her beadwork to create necklaces, earrings and other beautiful jewelry in combination with gemstones and beads. One of the reasons we enjoy working with Gail, is that she has the ability to see what she might do with a stone upon seeing it for the first time. Driven by her own inspiration she creates a variety of stunning works that all have unique character.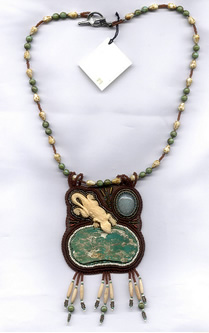 In this necklace Gail used a polished turquoise vein specimen from Stone Mountain Mine. We had no idea what might come out of it when she purchased the piece and were dazzled when we laid our eyes upon this creation. Her beading ability allows her to use types of stones that are generally difficult for a jewelry artisan to use.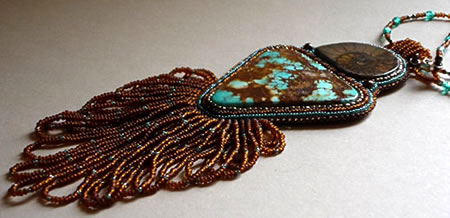 In this next piece she used a ammonite fossil and a large Stone Mountain Turquoise cabochon made from large turquoise vein cut from iron rich hostrock. The colors in the turquoise and in the fossil she framed with just the right combination of beads and shape of dangle in the strands. This is one of the key features of her work that appeal to us.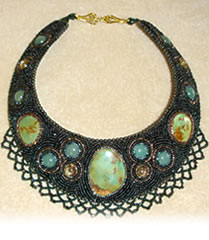 The feeling in her jewelry pieces is always present and stuns all who see them. Quite often when owner of Nevada Cassidys, Suzanne Cassidy wears one of Gail's pieces she is stopped on the street and quizzed about it. They have a way of drawing in the wonderment of people and are accommodated by the comfortable leather backing that she incorporates into her beaded collar necklaces.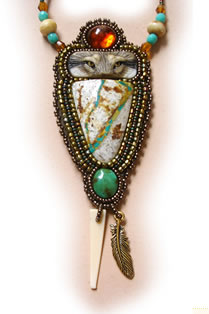 Her latest jewelry creation is called "Wolf Eye's", can be purchased at the "Nevada Museum of Art" in Reno NV.
Gail occasionally teaches classes at Larry's Wahrenbrock's Bead Store. For further information contact the bead store through the link below.
tradebead.com
If you would like to request a custom jewelry piece using Stone Mountain Turquoise, or have any questions or comments, please feel free to send us an email with "Gail Farcello's Jewelry" in the subject line. info.com
We find the most enjoyment from working with artists like Gail Farcello, this allows us to help skilled artisans create jewelry and art from what inspires them.